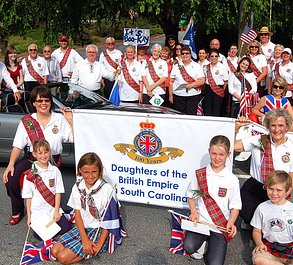 About the DBE

Founded in 1909, the Daughters of the British Empire in the U.S.A., or the DBE, is one of the oldest service organizations of British women in the United States. The founder, Josephine Langstaff, realized that dedicated British women living in a foreign country could unite to be an enormous power for good, both for themselves and for the communities in which they lived. More than 100 years later, Mrs. Langstaff's vision continues to guide women who participate in DBE chapters in 27 states.
From the War Relief Fund days of WWI, through the provision of ambulances and a mobile soup kitchen in the Second World War, the organization expanded its charitable mission into the establishment, construction, maintenance, and endowment of four homes for the elderly in New York, Illinois, California, and Texas. Today, these care facilities are recognized by their respective state-certifying authorities as best practice examples of such institutions.
Since 1974, the DBE has engaged women of British birth, naturalization, or ancestry who reside in South Carolina. Whether they hail from "across the pond," a Commonwealth nation, or the United States, DBE members share an interest in promoting Anglo-American relations while helping others and enjoying fellowship.
South Carolina currently supports one active chapter—the Redcoat Chapter in Greenville, which also includes women from across the Upstate area. The chapter supports regional and local charities, most notably Mountbatten House in Highlands, Texas.
Milestones in South Carolina's DBE History
The Society of the Daughters of the British Empire in South Carolina was founded in 1974 with the formation of Greenville's Redcoat Chapter. For nearly 50 years, this chapter has maintained a strong presence in the area.

In 1984,

the Lake District Chapter formed in Clemson. Sadly, t

he chapter dissolved in 2020. Over 36 years, the chapter was very active in the Clemson area, raising funds for the Mountbatten House and local charities.


In 2010, HRH Prince Edward visited the area to attend the Greenville Scottish Games. Redcoat Chapter members were present and provided support for the royal visit.




Starting in spring 2020, the worldwide COVID pandemic limited DBE meetings for more than a year. Members eventually gathered online meetings. Then, after many members were vaccinated, the South Carolina DBE Annual Council Meeting took place in person on April 10, 2021 following CDC recommended precautions.